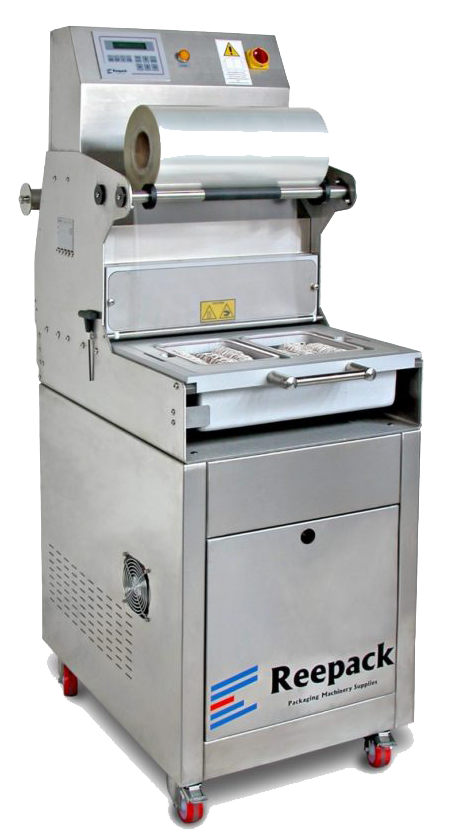 Reetray 30 is a semi-automatic tray sealer specially designed for Modified Atmosphere (MAP) and Vacuum Skin Package (VSP) in preformed tray or on cardboard support for food-stuff in portion.
Mobile stand on wheels available with two different vacuum pump power: 40 or 60 cbm.
User-friendly HMI controller permits to set and record different programs, as for:
– Vacuum and Gas processing
– Inert gas over-pressure
– Multi-cycle Vacuum and Gas
– Vacuum Skin processing
Automatic film waste rewinding and photo-cell for printed film makes the machine complete for a better packaging. Ideal for medium sized operations and well-suited for larger companies in marketing tests for new products.
Supplier:
Reepack SRL is a company operating in the field of manufacturing packaging machinery with an extensive range of semiautomatic and fully automatic machine.
High experience in manufacturing packaging machinery has given us a deep understanding of the demanding production requirements to which machinery in this field of application is subject.
Reepack serves Customers across the spectrum of packaging applications with innovative solutions by leveraging its extensive array of technologies, design expertise and combination of intellectual property, strategic partnership and manufacturing strength.
For more information, please contact us